I'm going for a hike in Abisko late this summer. As a gadget freak I just had to purchase a new gadget for this adventure – a Garmin eTrex Legend Cx. I have owned other GPS units before, but this one is so small, waterproof and straight forward to use (yeah I know it's a sales pitch, but what the heck). What enticed me the most was not the possibility to see my position on a map at all times, but rather to have a very accurate trace of our hike afterwards.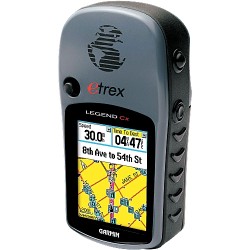 I have not owned this gadget more than 24 hours, and I have already found several exiting GPS-related activities that I haven't thought so much about before:
Track your every move and look at Google Maps later
Generate nice graphs and stats from track data and waypoints (read Python scripting)
Soon I will have completed a set of scripts for working with the GPX-files produced when tracking is enabled. After that, my goal is to create a small Python app for mapping a track to any raster image (for instance aerial photography, scanned map etc) and showing graphs and stats from the track suitable for publishing on the web.
Geocaching
Pirates and treasure maps – Geocaching is playing pirates for adults (without the cannons and looting). While searching for information on how to create custom Garmin GPS maps I stumbled over the concept of Geocacing. Well, I have heard about it before but never spent time understanding what it is.
The short version can be described as:
Person A takes some interesting items and puts them in a weather proof box (items + pen and a log)
Person A finds a good place to hide the box anywhere in the world
Person A marks the location with a GPS (lat/long) and registers the "cache" at http://www.geocache.com (or some other site)
Person B browses http://www.geocache.org (or some other site) and finds the "cache" hidden by Person A
Person B downloads the location info into a GPS unit and sets of for a hunt for the "cache"
Person B finds the cache, replaces an item in the box and logs the visit
Person B logs the cache finding at http://www.geocache.com (or some other site)
I have already found some "cache-sites" around the area where I live and will hunt them down soon. I also plan to plant my own "cache" later so stick around, I will probably write some more about this new hobby of mine. Arrr!