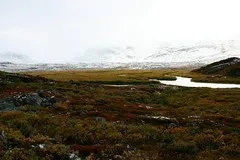 I just uploaded a small batch of images from when I and a friend (Olle) visited Abisko in the northern parts of Sweden back in 2004. The early winter there caught us by surprise, so we had to cut the joureny short, but still managed to get some nice shots out of it.
I also added some of my abstract and nature photos. In good time I hope to add more or less all my photos to flickr since they do not have a storage limit (even if there is a traffic limit of 2GB per month).
I also have some photos at pbase.com and the Swedish site fotosidan.se, but I will probably terminate those accounts (at least pbase.com since flickr offer much more for less money).
Stay tuned for more images in the next few months!